There are certain times where a spatula makes the most sense to use in the kitchen, and then there are times when a set of tongs makes the most sense for use in the kitchen. But what about when you have the need for a spatula that squeezes?! Let me introduce you to the Genius Spatula! It's a set of tongs that has a connected area in the middle that works just like a spatula!

The Genius Spatula is a unique kitchen tool that will grip like a set of tongs while letting you flip like a spatula. It's perfect for cooking breakfast when you have some things that you need to grip like sausages and bacon, while having other things that need flipping, like pancakes, or eggs.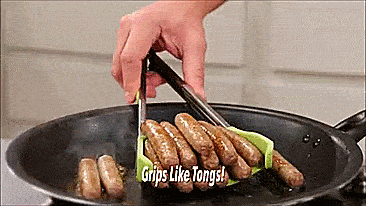 With the Genius Spatula you can grab, scoop, and serve foods like scrambled eggs, pulled pork, pot roasts, fish fillets, fruits, cookies, salads, hamburgers, grilled-cheese, steaks, and more! The Genius Spatula give you a commercial quality tool with practically no mess!

[LIMITED 3 ITEMS ONLY PER PERSON]